With restrictions like lockdowns and work-from-home, comfort and good for morale food like chocolate have become essential in the day of the consumers.  Moreover, with the arrival of Easter, chocolates are very praised products. However, the expectations of the consumers evolve and new innovations enter on the chocolate market. Then, we can find more and more fruits in chocolate.
TRENDS AND EXPECTATIONS OF THE CONSUMERS
COVID-19 has impacted consumer 's awareness of the importance of health and wellbeing. Health has become the top-most priority. According to a Global Data survey, 85 % of consumers globally claim that their choices of products or services are always, often, or somewhat influenced by how it impacts their health and wellbeing.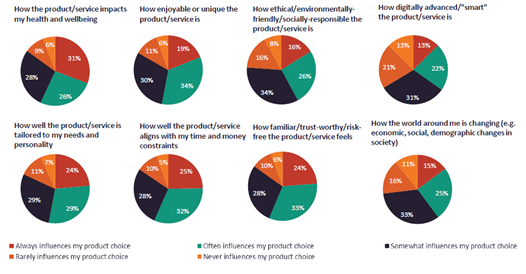 Source : 2021 Q1 Consumer Survey Snapshot: Attitudes and Behavior in Chocolate, Confectionery, and Desserts
Then, as at home snacking rises, consumers are warier of what ingredients manufacturers use within the chocolate. Nevertheless, they want to continue to find pleasure eating it. Then, chocolate has become a challenge for brands which have to combine the desire of indulgence and the awareness about health. The aim is to look at new ways to reduce sugar without losing focus on the great taste of chocolate.
As shown if the graphics below, 38 % of consumers prefer products containing immune-boosting ingredients. In addition, the demand for natural and organic products is also gaining momentum, with 33 % of consumers driven to purchase products that are said to be organic. Consumers are now looking at low sugar, more natural and cleaner products.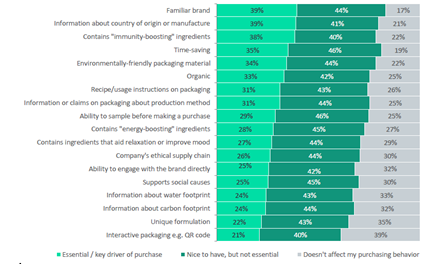 Source: GlobalData 2021 Q1 global consumer survey
To attract these health-conscious consumers, manufacturers are focusing on health benefits and add additional health claims such as "low/no sugar" or "increased vitamin and mineral content" on their offering chocolates.
CHOCOLATE AND FRUITS
A way to reduce sugar in chocolate is adding fruits. Indeed, companies decide to include fruits pieces in chocolate tablets for example to use only sugar naturally present in fruits. Fruit inclusions in chocolate are a way to push toward clean label without impacting taste. Adding fruits in chocolate is also a source of innovation and allows to create new flavours. Chocolate and fruits associations work perfectly. Then, we find more and more chocolate tablets with fruits inclusions in particular ginger, citrus, and red fruits.
APTUNION
Aptunion inclusions answer perfectly to this demand. Indeed, Aptunion offers fruit pieces, fruit hearts and even cubes of candied fruits. These inclusions are ideal to include in chocolate whether it is chocolate tablets, balls, or even more eggs for Easter. From natural composition, without preservative and with a short ingredients list, fruit inclusions of Aptunion have intense flavours which will mix very well with chocolate. They will allow to obtain innovative, healthy and tasty products. Chocolate balls with a fruit insert are tasty and convenient products we cand find at Aptunion.
Consumers being on the lookout for organic products, Aptunion launched an organic range. We can find candied orange and lemon strips, cubes of candied orange, candied orange and lemon hearts and event candied yellow melon. Indeed, orange and lemon are the most popular flavours in chocolate products.
Our R&D center is at disposal of customers to create personalized recipes et share its expertise.
Find our products at : www.aptunion.com