Introduction
With consumers looking for naturality and transparency, Clean Label concept is more and more popular in industry. Anchored in a continuous improvement approach of its products range, Aptunion meets to the highest requirements in terms of quality. The company engages in a natural setting of its products.
In search for naturality and transparency
Consumers are taking care more of their healthy since the pandemic and are wary of industrial products. Worries about food have considerably increased. They are now in search of less processed products and without controversial ingredients which could be harmful to their health. Then, they pay more attention to the list of ingredients appearing on these products. According to a GlobalData consumer survey, 46 % of respondents claimed that they are more likely to choose one brand over another if it contains natural ingredients.
Being more and more careful, consumers want to have now a maximum of information about the products they buy. This concern push them to look for Clean Label products.
What is Clean Label ?
Clean Label is a term associated to the naturality of ingredients. It consists in reducing the list of ingredients to its absolute minimum, clarifying it using clear and common words and reducing additives and allergens. Scientific formulas are replaced by recognizable ingredients and from real food. Formulas are reassuring for the consumer. Then we find claims like preservative-free, non-GMO, lactose-free, sulfate-free, etc. Moreover, the use of common food as sweeteners, colorants or flavors allows to consider this food as ingredients rather than additives. Clean label products have recorded a notable growth for 2020. According to a Global Data survey, in 2017, 35,85 % of French consumers believe that clean means natural/organic claims and 31,72 % of them believe that clean means free from artificial ingredients.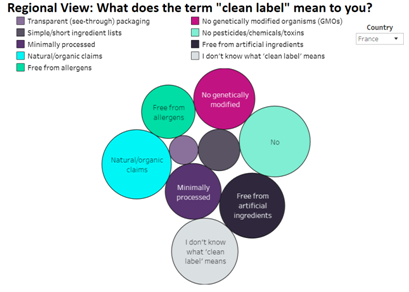 Source : Consumer Survey Results – Interactive Data: Consumer understanding of "Clean Label", 2017
Aptunion
Aptunion responds to this trend. Indeed, almost all the products today are "clean", with a reduced additives number or totally absent additives. This is possible thanks to the combination of our master confectioner's expertise, the "clean" ingredients research, and the product development work initiated by our NPD department.
For example, our candied watermelons and our candied cherries, made from fruits harvested in Provence, are available with natural colors and without preservatives. The sugar content is a natural preservative in the product. Ranges are also more and more made with natural ingredients, natural colorings agents and natural flavors.
Aptunion has also developed an organic products range to reach consumer demands and the market growth on this topic.
Our R&D center is at the disposal of the consumers to meet their needs developing recipes which delete or replace additives, aromas or texturizers traditionally used. It aims to share its expertise crating personalized solutions.
You can find our products on : www.aptunion.com