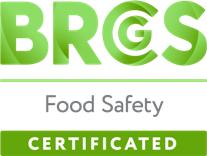 Our company has received BRC certification for all production sites .guaranteeing the safety and hygiene of our products. We have been running a quality management initiative in line with BRC since 1999. The strictest quality requirements are met at every level of our production processes and these conditions form the basis of our supplier and employee selection.
We applying best HACCP practices in all our units and every finished product must meet strict specifications. Our automated processes and internal quality control laboratory ensure our products are of the highest quality possible.
Some references are certified Kosher and Halal, please contact us for more information

To live up to this commitment, we are constantly assessing the hygiene and quality standards of the ingredients we produce and sell.